What project did not have problems?
Just a disclaimer that this is not to publish hate towards STIL Design and Construction because I am pretty sure we would've encountered these as well no matter who builds our dream home. Most of these were not even about construction. My goal for this blog post is to help others who plan to build their house by telling them the things we wish we knew 🤙🏻.
Available space
The biggest difference in reality to those trending Facebook posts about exterior and interior design is available space. I follow @gypsea_lust and @doyoutravel for a long time now and when they posted their new house in Bali, I instantly fell in love 😍💛. It was only recently that I found out that that dream house has 900sqm of lot area when ours was only 100 🤷🏻‍♀️.
100sqm is not big enough to start with. And when we started chatting with Iry (our architect), she always had drafts where the floor area does not take up all the space. We did not understand at first that the building code requires an open space. We almost did not believe it too because every house next to ours is not following this 🙄👻.
I used to say that when I get my own house, the first rule is it should only have 1 storey and it should be small 🐣. Growing up in my room, I knew the mistakes I didn't want to repeat when I become of authority of my own home. Surprise surprise, AJ won the battle of how many levels should we have for our house because it really wasn't enough.
If you check it now though, you'd see we don't have much space in our dining and living room to compensate for how I wanted everything to be in the first level (probably also why we ended up with an open area that AJ really likes).
If there's anything I would change or redo, it would be this. This same house but in a bigger lot with bigger spaces, and then with an added outdoor area for our samgyupsal hangouts and a swimming pool 🏊🏼‍♂️.
We did not plan enough
Our house was created out of need instead of a want or as a plan/dream which was why when it started we didn't really know 100% what we want. Our goal has just been to build this house as fast as possible so that I can finally move out and live my life.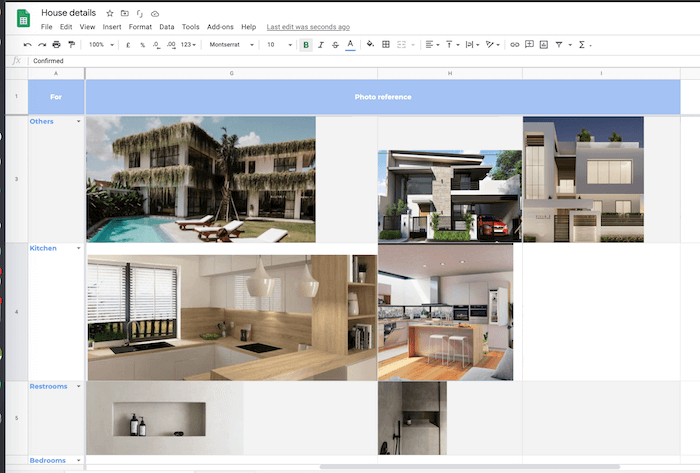 I basically finalized what I want to push through during the lockdown which was after our loan application was approved and the construction has already started. There were of course things that are too late by now like space for a bath tub (outside the shower area), round corners/windows and sliding doors. Maybe for our next house!
Another thing, since we basically rushed our way into the application of our loan, we didn't really check or discuss the bill of materials. What mattered to us were the total amount and nothing else. So it was during construction that we found out what's included in the budget and what's not.
Things I expected to be included but weren't:
screen doors
mirrors in the rest room
ceiling of the carport
finish for the balcony floor
Things I did not expect to be included but were:
chandeliers (yes more than one)
landscaping
I'm not complaining tho! As it was partly our fault for not asking and we were aware that we are over budget. Specially because the lights turned out really nice! It was a detail I would've overlooked if things were up to me.
Overbudget
We call this our dream house, and it'd be a sad thing if it ended up less than half of what we wanted. During construction we had a lot of additional requests (that we have to pay for of course) and we watched our savings go by way too fast so now the budget we had saved for furnitures is gone. We'll have to live with a few stuff for a while.
I was also constantly conscious with the budget. Always asking our architect to build us an aesthetically pretty house with our limited money (I also didn't want to loan a big amount of money). We eventually had to downgrade everything because the first plan, despite being so good, turned out to be expensive 💸💸.
The final output looked so good! But if you look closely you'll see a lot of minor inconsistencies. There are probably a lot of factors why it was like this but we know that it's mostly because budget was not enough. We've known this since the beginning because we loved our architect's ideas but we couldn't really afford it, she then insisted that she'd make it work ✨. Now everyone kept on guessing it wrong on how much the total cost was ✨.
But still, if we were to redo it again, we would've opted for something within our means and upgrade the quality instead of the other way around.
There will be problems during construction
I may or may not have cried irrationally 🙈 but in the end, most of our concerns are resolved. Communication really is the key 👌🏼. (It wasn't me tho I just cried, it was mostly AJ who made sure I got what I want ✨)
As a dev (software frontend engineer), which I know is a lot different with this kind of construction work, I know that mistakes are normal and expected. It's impossible to not omit human error and miscommunication.
I watched a lot of home tour videos recently (specially from the youtubers/travellers I already follow) and one thing that's common is this. Even for those who had the budget for a luxury house. Even for those abroad.
And we did have our big share of issues. There were tiles that are not put on correctly, paint in the wrong color, cabinets that did not look right, spaces that even after adjustment still seemed too small for me, and so many others.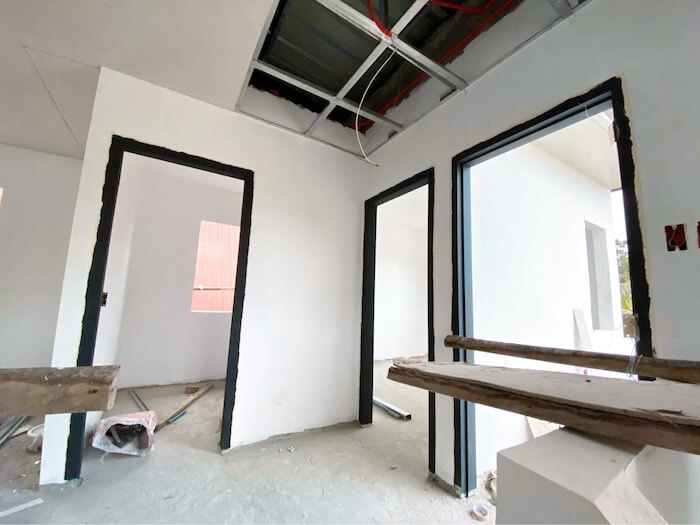 One of those issue were these dark paint of the door frames. I was already questioning it the first time I saw it but I stayed quiet for awhile because it might turn out better than what I think. It also matched the color of the window frames so I stopped worrying then.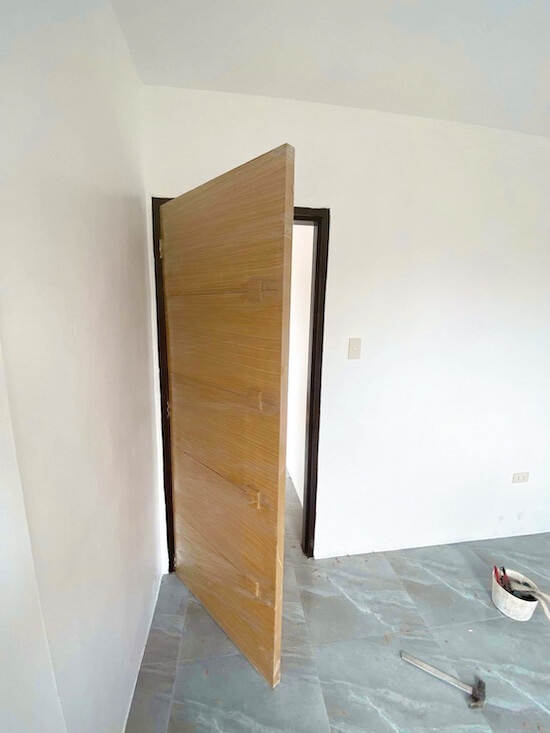 But when the doors were installed, I knew I couldn't let the issue go. I am not the best in terms of design and colors but to me this looked like the dark paint is disturbing the expected harmonious balance with the brown wood door and the white walls. I really couldn't be at peace with it and the first time we asked, they really weren't into redoing the paint.
Another major issue that we had was with our glass railings. Okay now it doesn't look so bad in the photo, but we had a lot of problem with the finish and service for this one. The original plan was it would be supplied from Manila but since they were suddenly placed in a strict lockdown due to covid, it was decided to find it somewhere closer. The service was so bad they didn't even go back to clean it up! We then annoyed them into going back and redoing the whole thing because other than the misalignment of things, it also wiggles 🙉! It wasn't safe specially for children. When they came back, the output was still just as bad and it was still not installed as tight as we expected 💆🏻‍♀️. This was an expensive mistake, I was glad Iry our architect/contractor was willing to try fix it still.
What we should've done is put everything we agreed upon into writing. So that it's clear for us what to expect and we'd have proof when things don't go as planned. Specially the tiniest of details, because we tend to forget these things and recall them when it's too late. We also had instances where our engineer thought that the things included in my list were only for 1 restroom when we had two. We went back and forth confirming and reconfirming most of the details when a simple pen and paper could've done the trick faster.
Time
Well, this is always a personal issue of mine. There were a lot of delays with this project and it was a bit hard on me when there are days that have no progress or when things don't start at the date/time they say it will.
Our architect told us that we'd be moving by July, a time when we were all overwhelmed at how fast the construction was going (around end of May). I knew then that this is probably an underestimate so I have already accepted it. It's the last day of September today as of this writing and we are still not yet done with the finishing even though we already have an occupancy permit. 🤷🏻‍♀️
Anyway it was our choice not to move in yet and wait until they are finish. I decided to include time in here so that if anyone's reading this, it might help them set their expectations. (See our 1 year timeline)
Cant escape unsolicited advice
This project has been a secret for the most part. I didn't want people to know about this because they'd tell me what I should do when it should be up to me/us. There really were a lot of strong arguments mostly based on opinion that I wish I never heard. I am glad I chose an architect and engineer that are of my age because I am really tired of boomers 👻
"You don't need an architect" might probably the one I'm glad I did not ever listen to. I might never know the difference, but to me I feel like we didn't really have a lot of major issues during the span of this project. They are mostly nitpicks.
I am proud that I asked for my friends help, I am more than satisfied with the outcome. I will never forget that someone I know since elementary built my house and I will forever brag this fact to everyone I know 🎉. But I do feel like we are being judged for choosing people who are young with less experience 🙄.
Unsolicited advice will always be out of good intention but they easily throw me off the edge. Will probably need to recharge my social batteries more often when this gets finished!
---
To conclude, a lot of things went wrong or could've been better, but a lot of things went right too! What matters now is it's all over and I can finally live in my own house 💅🏼 💆🏻‍♀️.
For your dream home, and if you liked our house, don't hesitate to contact STIL Design and Construction! And that's not just because our architect is a friend! ⭐️⭐️⭐️⭐️⭐️
---
Watch our house tour! 🙈