Ahhh, yes, another impulsive decision. This time, it came with a lot of responsibility.
So when we found Chicken we had only more than a week to prepare. AJ and I spent hours researching what's best for our puppy. We found out it was a little hard to search about brands because there are a lot of paid content and expensive marketing out there (Hello, Pedigree 👋🏻).
The first vet we checked out had little supplies of the things we need, it was mostly Pedigree dog food so it turned me off a bit. After that failed attempt, we decided to buy everything we needed in Shopee. We just made sure the stores we choose are in the Philippines and are known to ship orders fast.

It wasn't really that hard to find everything in Shopee and Lazada. I planned to link everything but it would take too much time and most of the items below are just one search away. There are also a lot of reviews already for almost all products listed below ⭐️⭐️⭐️⭐️⭐️. The bigger problem was to resist the temptation to try every item from every brand 🤑.
Marking some items:
🚫 - did not use / not helpful
⚡️ - needed / helpful asap
⏰ - we bought after Chicken arrived
💰 - already repurchased / restocked
Food and treats
I found a famous Youtuber who swears by the dangers of kibble (dry dog food), and it is a very concerning topic. However we decided to give Chicken a mix of wet and (quality) dry food.
Beefpro ⚡️. This is the dog food Chicken's breeder feeds him. We have to buy this first and slowly transition to what we want to feed him.
Monge Wet Food 💰. Chicken loves this! We mix Beefpro with it and he keeps on only eating the wet food 😅. I accidentally bought some adult food and after a quick research it's best not to feed puppies these food for now. I still don't know what to do with those but maybe I'll try to mix it in his food but on seldom dates.
Aozi Wet Food. I guess Chicken loves wet food no matter what brand, which is good! From the Toy Poodle PH Facebook group I found out that a lot of people swears by the brand Aozi, so I bought some. The only concern I have is it makes Chicken's tear stains worse, so we might not repurchase.
Royal Canin ⏰. Okay we don't have this yet (status: to receive 🛵) but this is my choice of dog food to replace Beefpro. It is a high quality dog food and might help with his tear stains.
Biscuit treats ⚡️💰. These are Chicken's favorite treats. I really like it too because they seem like the healthier option. I feel like it's also not heavy if he eats a lot of it. The others we bought, Chicken didn't like. There are some that are okay but the biscuits are the only thing we'll keep on repurchasing.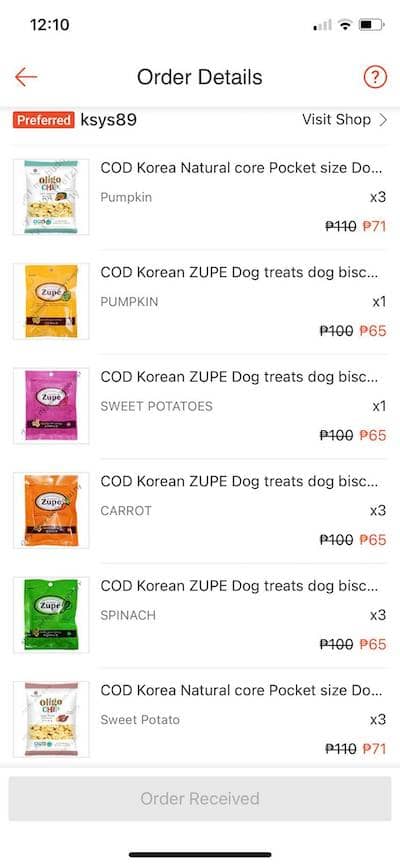 Dougtella Peanut Butter. I got anxious when I received this package because it has a big sign saying best before July 2021. I don't plan to give this to Chicken daily so I thought we might not get to finish the two bottles we bought. I was wrong, we're already halfway through after 1 month! We give this to him when he's an extra good boy and after giving him a bath. ⭐️⭐️⭐️⭐️⭐️ Recommend!
Stainless Pet Bowl ⚡️💰. We initially only had 2 but I bought more so that we don't have to reuse dirty bowls and so that we'd have enough time to clean them. Other than the fact that it looks better than plastic, it's also harder for Chicken to spill the food in it.
Collapsible Travel Pet Bowl 🚫. I have no idea why I bought this, it's not like we can travel Chicken now, we can't even take him outside our house 🙉. Currently stuck in our storage room.
Grooming
Mr. Giggles Pet Shampoo and Conditioner ⚡️. This is the first and only one we tried. We liked that the ingredients are organic. It claims to be anti bacterial, anti tick and flea and stimulates hair growth. With those claims, we had higher expectations although we have no idea how to know what's good and not. We are looking into others (Fur Magic Pet Shampoo and Saint Roche) to find out what we think is best.
Pet Tear Stain Wipes 🚫⏰. It works but I feel like a normal cotton with water would do the job just the same. There are also tear stain vitamins to try but it is too expensive for us to constantly buy stocks of.
Paw Cleaning Foam. It does the job and helps me feel more confident that Chicken is clean after staying outside.
Self Cleaning Slicker Brush ⚡️. This is the only thing that helped calm down Chicken on his first night with us. And he loves this (only) when he's sleepy. I bought a bit expensive one for easy cleaning only to find out later that poodles don't shed 😅. Normal brushes would've been enough.
Comb ⚡️. I use this when we're upstairs and the brush downstairs. I don't see a difference from the brush.
Nail Clipper 🚫. Haven't tried yet. Too scared to cut too deep.
Cature Oral Care Pro Mouthwash. I'm not sure if we can manage to use toothbrushes so I bought this instead when I stumbled upon it. You just mix it with his water and that's it. And then we give him chews good for dental health sometimes. So far Chicken doesn't have bad breathe.
Cature Purelab Ear Cleanser. We are still having a hard time using the product but the last time, after putting product in his ears, he seemed to like it. Watch Youtube tutorial.
Spray
We bought a lot of spray! All with different purposes.
Play Pets Pet Cologne (Lavender Breeze) ⏰. I like it but the smell does not last as long. Will try Saint Roche Dog Perfume next.
Bioline flea and tick spray ⚡️⏰. We found ticks in Chicken's body just a few days since we got him ☹️. Our vet suggested Frontline Plus for the ticks and we used it immediately. This spray is mostly to spray on surfaces at home (can also be sprayed to the puppy). We bought the cheaper one from Bioline but we're eyeing the one from Vets Best brand which is a lot more expensive. When we spray this, we find dead insects lying around the surfaces.
Bioline puppy training spray ⚡️⏰. This is to help with potty training. He is slowly learning to potty so maybe this helps! Still not sure if we will repurchase. Maybe one more time.
Bioline keep off spray ⏰. This is supposed to keep dogs from areas we don't want them to potty. We used it mostly upstairs where Chicken is still learning where to potty correctly. He was still having accidents in different areas while using this. And that's using this together with the training spray of the same brand. Still not sure about this.
Nutriscience Pet Odor Away 🚫. I saw this first in a Youtube Lazada Haul video. They said it helps with the odor and if I recall correctly, this is also supposed to help puppies not to go back to unwanted areas for potty, similar to the keep off spray, but that wasn't working for us. AJ also thinks this is making things smell worse. We ended up using our all purpose cleaner spray to replace this. Still looking out for options.
Toys
We bought a lot of toys for Chicken, specially when he started biting us too much. Will only be listing some. There's a lot of cute stuff out there in any shop 💸💸💸. The only ones we regret buying are the tennis balls 🚫.
Kong. A lot of people swears by kongs. So this is a toy that you put dog food/treats inside and the puppy is supposed to go crazy with it for a long time because they have to work for the food to come out. However we haven't introduced it correctly yet. Also bought the wrong one 💸. Still thinking of buying more because it will be worth it when Chicken gets hooked.
Suction Cup Dog Toy. He likes the leash more than the toy. Also it does not stick well to the floor sometimes but he plays with it a long time compared to other toys.
Interactive Rubber Chew Ball Toy. Needed some time before Chicken played with this. Says it also helps with cleaning his teeth 💁🏻‍♀️. Just a bit worried with snacks getting stuck there for a long time without us noticing.
Potty
And here's a list of things we need that's bad for the environment ☹️. Hate this fact but we really don't have any more ideas what to do.
Pee pads ⚡️💰. Very absorbent. I don't know if Chicken's pee has a smell but so far so good with the overall smell of the house. We just have a problem with Chicken attacking these pads like they are toys.
Pet trash bag ⚡️💰. Does the job. Most of reviews say they are small but seems to be just the right size.
Pet poop scooper 🚫⏰. We don't really use it. We sometimes play with it to scare Chicken and that's it.
Diapers 💰. Here's what I learned, male dogs now has a separate diaper (??) and it's only for their pee. So cute! We still decided to put Chicken in the default ones. We only use it when going out to the vet just to be more sure we don't have an accident in the car or in the clinic. We plan to stop eventually when he's older. Our experience, Chicken already knows not to pee on new places, so he does his thing the moment we get back home. And the diaper will only work 50% because by this time, Chicken already made progress in removing it.
Pet wipes ⚡️💰. The first one we bought had an apple scent, which I didn't like. The second batch had no scent, and was the cheapaest one I found in Shopee. I like it better. These go by fast! We need to buy more stocks even though we just recently bought some.
Others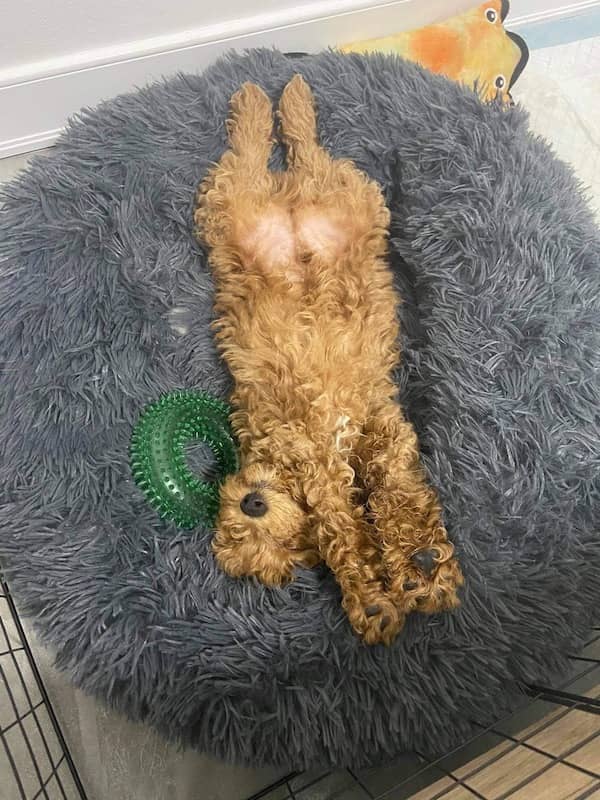 Bed ⚡️. We got this cute and fluffy one. Chicken loves it and uses it all the time however he already destroyed some parts of it and the bad smell sticked to the bed. The first time we gave Chicken a bath, he started to smell bad again quite fast. And they say poodles don't have body oder so it was a question mark for us until we figured out one factor was the bed.
Treats bag ⏰. I bought 4. This is so that we have treats everywhere in the house that we can easily find.
Mondex Energy Supplement Dextrose Powder 🚫. The breeder suggested we buy this because Chicken is expected to be stressed his first night. He didn't drink it ☹️ so that night was stressful for all of us. I have no idea when we'll need to use it again.
DIY Play pen ⚡️💰. We don't plan to use this a long time just until he gets to learn potty. We actually bought more just so we don't have to bring the play pen up and down wherever we are staying. Not as strong because Chicken can move it around. We don't really close the 4 corners, we just stick one end to a wall. We are now up to 2 layers because Chicken also learned how to go over the play pen 👻. It does the job but I don't think it will last a long time, if we decide to do that, we'll look for other sturdier options.
Leash. We bought one with the thing to attach to his whole body so that we are not pulling on his neck. Still too big for Chicken so we only use the leash for now and bought a small collar. We're still not sure if we need to buy him a collar that he wears all the time with a name tag on it since he's always inside the house and he never tries to go to places he haven't been to. He always chickens out (pun intended) 👻.
Stuff we'll buy/try next
Vitamins
Saint Roche shampoo and perfume
Fur Magic shampoo
Dry shampoo
Vet's Best Flea and Tick spray
enzymatic dog spray
better bed, preferably something easier to clean
hair dryer for dogs, preferably less noisy
more cleaning equipment (vacuum, etc)
more toys!
clothes!
---
When Chicken arrived, the first thing we noticed was that we needed a lot of stocks. We needed a group of things in the bedroom, another in the living room, and one more set upstairs. So it was a bit financially overwhelming 💸.