So I didn't know what I wanted for Christmas 2020. AJ and I are not good gift givers because we can't keep anything from each other 🤪. Every time he asks me what I want, I gave different answers. I am at that point in my life where I want everything but I also don't need anything if you know what I mean 💆🏻‍♀️. We finally decided (a month later) that I want to push through with getting an eyebrow embroidery.
Why?
I complimented a friend's brows when she sent us a no makeup selfie after she got her warts removal and as it turns out, she had her brows done 😂. I had no clue and loved how natural it looks.
Been struggling with putting on eyebrow makeup because I kept on messing it up lately. Might be because I don't wear makeup everyday now.
AJ has thick (and clean shaped!!) natural eyebrows while mine looks nonexistent without makeup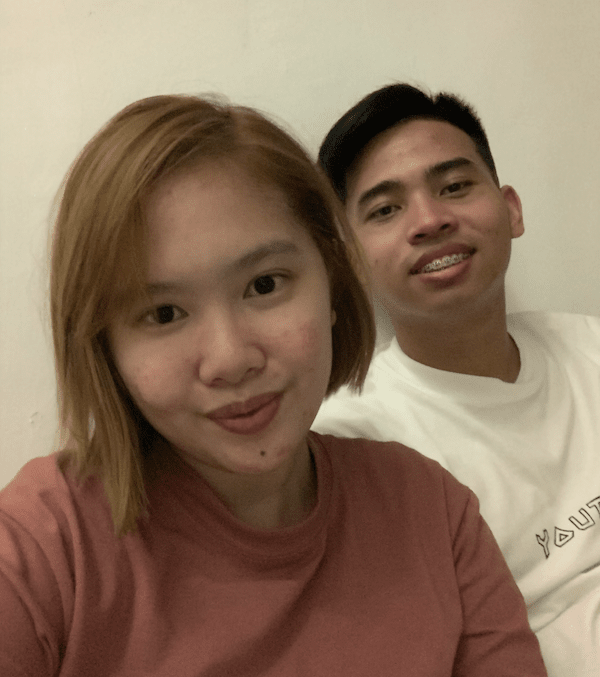 Procedure
I had my eyebrow embroidery last month (January 06, 2021) in Skin DeSyre Angeles City branch which was highly recommended. The first time I checked it out online, I noticed immediately how a lot of girls I know already likes the Facebook Page. I think that speaks a lot because it has a lot of competition, you know us, Kapampangans and our vanity 💁🏻‍♀️.
but first,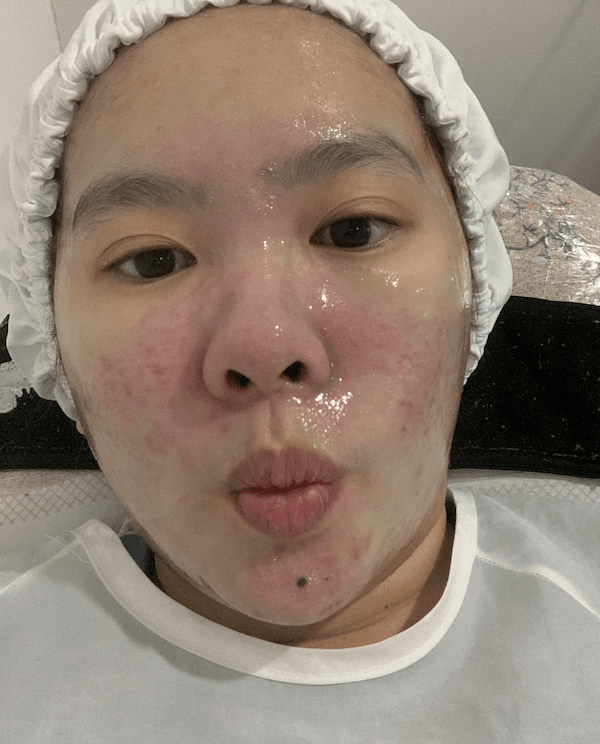 I had made the wrong impulsive decision to have my facial as well since I'm already in a derma clinic. Which is to stay I started 2021 in pain after years of not getting a facial 🙄 #tiisganda. Anyway I think this is the first time that my face did not react as bad with the facial because the last time I went, I still had a lot of acne.
During
I really liked the doctora who did my eyebrows. I think she owns the place (???). She is very nice and assured me that it has to be what I like, that I have to really think about it. She gave me options and showed me lots of example on different clients. She made sure I understand everything before starting the process.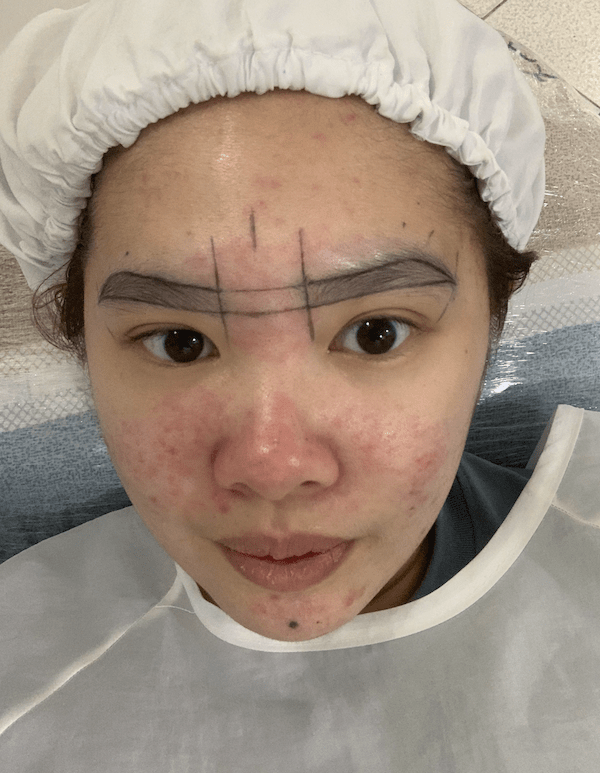 I really appreciate how she asked me multiple times if I am okay with the shape she drafted and was willing to change it.
I also thought that the actual hair in my brows will be removed but it wasn't a part of the procedure. I thought I am finally getting away of 1 year without eyebrow threading 😂. She used to have her clients get threading before the procedure but not any more because the threading is a painful service too. Doc cleaned it up with a razor blade a little but that was it.
The actual procedure wasn't painful because there was anaesthesia. I can feel (and hear) it when the thing touches my face but nothing too bad. The facial an hour ago hurts more. Getting an actual tattoo hurts more. It feels a bit stingy (mahapdi) which was expected but it wasn't that bad.
After
So doc showed me what it looked like immediately after she finished doing it (I didn't get a chance to take a pic it was fast). She then applied something on, explained after care to me, and then left. Little did I know she left me looking like this... 😂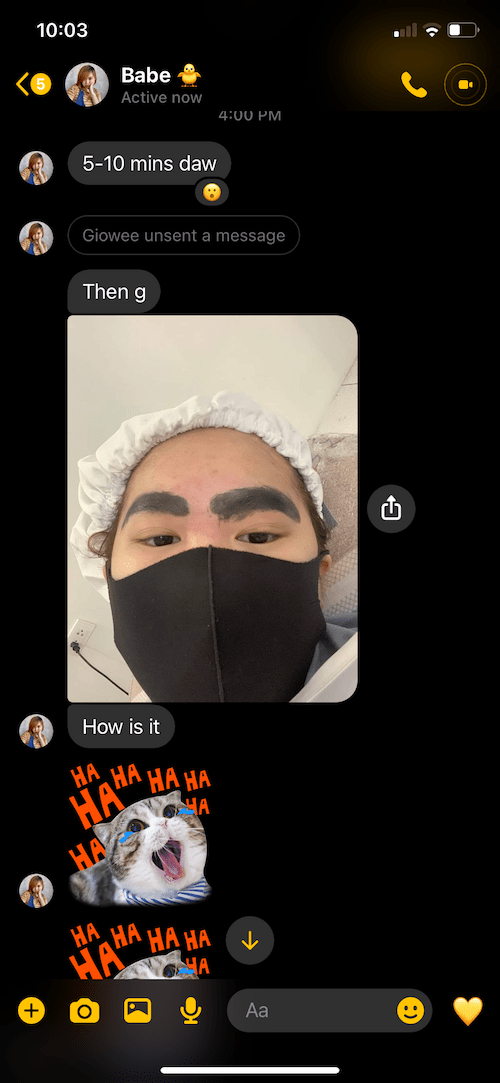 I went with the more natural looking hair strokes instead of having a powder finish. The color was dark brown. I didn't want to look like I have makeup all of the time I just wanted to have eyebrows. Now that I am working from home, I don't really put that much effort in putting makeup since I am just home but it would be nice if every time we get to have a random meeting that requires a video, I have eyebrows that's visible.
Healing
Here's what I didn't know: it will look crazy bad before it heals 👻 . Some FAQ:
Can I wash my face after? No. Avoid brow area to get wet for the next 6 days (some other blogs says 7 days).
Will it peel? Yes but not immediately. Similar to getting a normal tattoo.
Will it hurt after? Feels itchy at times + mahapdi (stings). It wasn't all the time, just random moments.
How long before I see the actual result? 1 month to be safe. It was really intense the first week. As for me, it was not until the 9th day that I felt okay with how it looks.
Is it forever? No. 2-3 years depending on how well it is taken care of.
Can it be removed? Yes.
After care
It will undergo the process of healing in the next 6 days. These are the most critical days. During this time I can't wash my eyebrow area so I had an excuse to skip my workouts 👻.They gave me a cream to put on using cotton buds at night. I can continue using the cream product if it still hurts after 6 days.
I can't put any skincare as well and I should avoid touching it. The hardest part for me was I couldn't wear my eye mask at night so I have no choice but to wake up from the blinding light of the sun each morning ☀️🥵 (we don't have blinds yet).
First week after
It was so dark! Even though doc already said this will happen, I still got insecure and I had doubts if I made the right decision. It was so bad that I found it hard sharing how it looks like to my friends who wanted to see it. My boyfriend took the time (and opportunity) to make fun of me because I looked angry by default 🖤.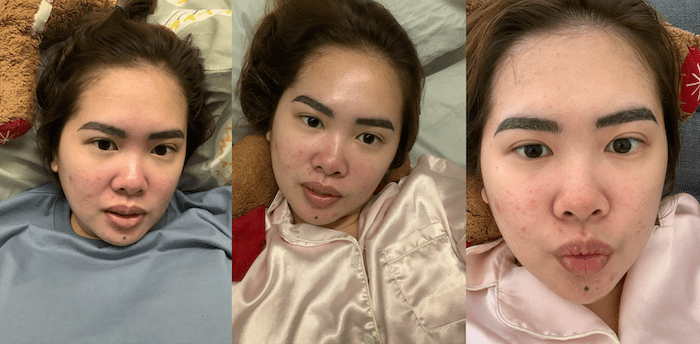 That part where I can't wet the brow area was a struggle. I feel like my whole face was dirty because I could not clean it well and put on skincare in all areas. My eyes also gets stingy (mahapdi) often. Specially when my eyes gets wet. I had my mini portable fan next to me at all times to use to ease the pain when the stinging happens.
The peeling started for me on the 5th day. From intense to awkward. There were ugly empty patches. It was still dark and it started feeling oily but the stinging pain has lessened. Good thing I was in a work from home setup, I didn't know I couldn't go out in the public for more than 7 days.
Second week after
I can finally take a bath like normal again! If I remember correctly I didn't really wash my whole face like normal at first just to be sure I'm not making things worse.
The peeling continued for this whole week. It doesn't look as awkward but it's still a bit messy. The intensity of the color was gone. In fact it looked too light for a few days that I had comforted myself in the fact that a light brow is better than how it looked before 💆🏻‍♀️.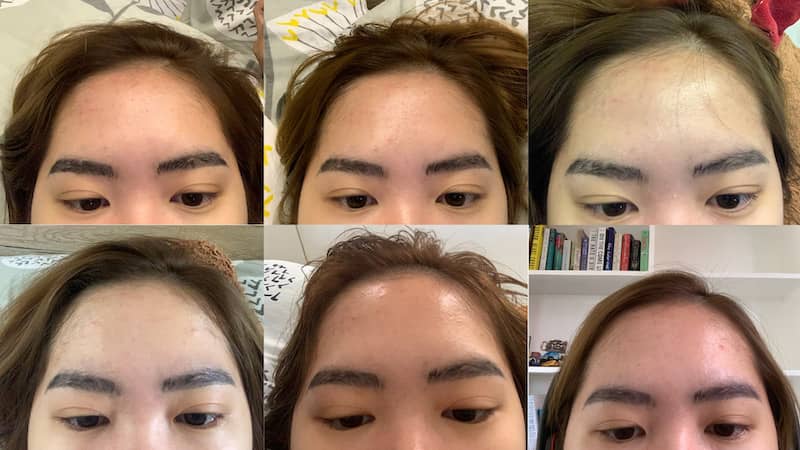 1 month after
The color came back and I can now appreciate the actual look 🥰. I really like how natural it looks because I didn't think anything of eyebrow embroidery before because I didn't want the makeup effect. Apparently it is an option.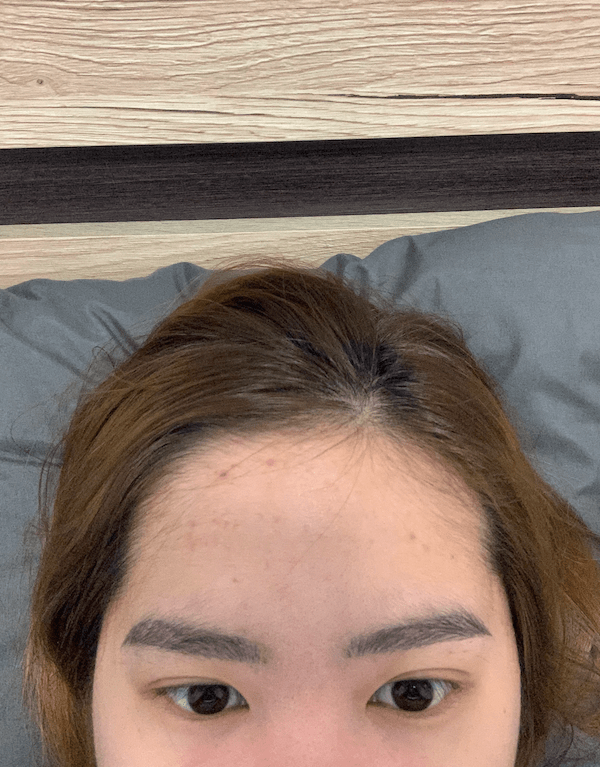 I can go back for a free touch up (that I forgot to ask until when can I get) because the empty patches is expected. I am not really complaining though because you have to get so close to see it like this (+ I am nearsighted so 👓). It also looks more messy caused by the actual hair so I still need to get an eyebrow threading service.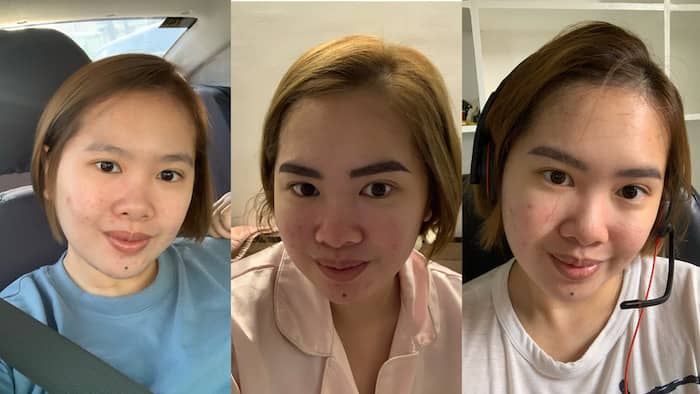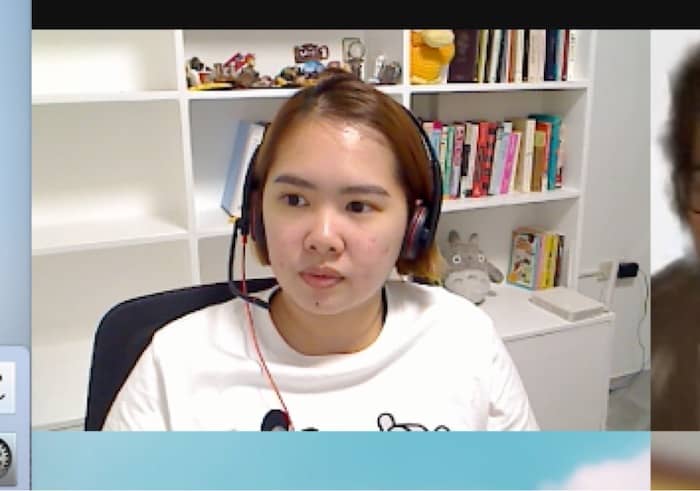 Now I am ready for my no makeup (surprise) video meetings! I spent this meeting checking myself out and obsessing over my eyebrows 💁🏻‍♀️.
⭐️⭐️⭐️⭐️⭐️/⭐️⭐️⭐️⭐️⭐️ definitely recommend!